Laurie is the founder of the Funny Farm Rescue & Sanctuary. Inspired by her mother and her love of animals, Laurie has grown the Farm to a beloved destination by enthusiast world-wide. The Funny Farm has earned many awards including the Top 10 places to visit in New Jersey, Children Making Change recipient of choice and has 10s of thousands of followers on social media. Personally, Laurie has earned the NJ Heartland Hero award in 2017, Who's Who Hero Award of Professional Women 2019, and been inducted into the NJ Veterinarians Animal Hall of Fame, 2018. Laurie was also awarded the Founders Live Girl Power Award as one of the Top Five Women Entrepreneurs in the Northeast. In addition, active in her local community, Laurie has her own Kindness Program, which includes a school program to teach kids about anti-bullying and special needs. With several of her friendly animals to show how different species interact with each other, Laurie demonstrates to children that we can all get along despite our differences. She also visits nursing homes and inspires everyone to never give up!
She is a published author of her autobiography, has co-authored three children's books, and developed an inspiration film about her special needs dog entitled "Chuck, A Funny Farm Story". Her film, produced by Glasstown Productions, has already won numerous awards at film festivals.
Laurie is also the President of Art-Z graphics and a licensed pilot. She is truly a unique and inspirational woman of our time. For Laurie, each day is an adventure, a Funny Farm Adventure.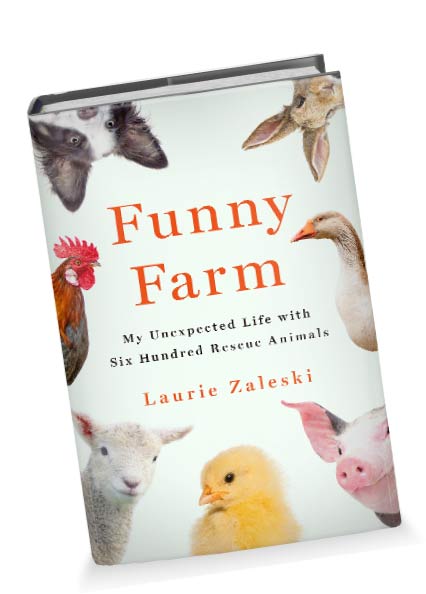 An inspiring and moving memoir of the author's turbulent life with 600 rescue animals.
Laurie never aspired to run an animal rescue; that was her mother Anne's dream. But from girlhood, Laurie was determined to make the dream come true.
Funny Farm is Laurie's story: of promises kept, dreams fulfilled, and animals lost and found.